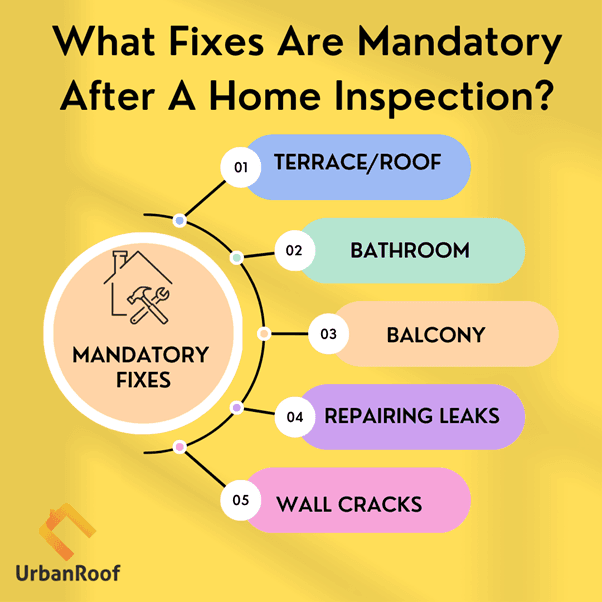 What Fixes Are Mandatory After A Home Inspection?
February 7, 2023 
The home inspection and repair procedure might be one of the most stressful aspects of buying or selling a house. Knowing what to look for and expect as a homeowner can help you evaluate your overall budget and make the process as smooth as possible. In this piece, we'll go over crucial components of the inspection and repair process, such as how to set correct expectations and what repairs are required following a home inspection, particularly in resale homes.
So, What Repairs Are Required Following A Home Inspection?
In most cases, mandatory repairs include issues that stand out as safety hazards or serious structural flaws on the property.
Terrace/Roof Waterproofing
Your roof is subjected to the most severe weather conditions, including sun and rain. Temperature fluctuations and severe rain cause wear and tear, which can lead to irreparable damage. Nobody wants a leaky ceiling with water dripping on the inside. During the construction of your new home, you must waterproof your patio. Getting it done while construction is underway might save you a lot of time and money in the long run. Water may enter your home if your terrace is not properly waterproofed, causing moist patches on the ceiling and walls. It may even creep down and cause leaks in severe cases
Bathroom Waterproofing
You might be wondering if your bathrooms need to be waterproofed. It certainly does! Bathrooms are big wet places in the house since they are constantly exposed to water. The dampness can harm not only the internal bathroom walls but also the surrounding internal and bedroom walls. The flaking paint that results can detract from the appearance of your property. Waterproofing bathroom walls and floors are critical. If they are not waterproofed during new construction, it might be terrible for your bathroom and other internal walls. Repairing bathroom leaks is also an expensive and time-consuming task.
Balcony Waterproofing
Completing the terrace and balcony waterproofing of structures that will be exposed to water is critical for a building's aesthetic and performance. You may have had issues with a leaking balcony or terrace following heavy rain. The rain creates a pool on your balcony and begins to leak down to the lower floor. The leaking from balconies is a severe issue. It can result in cracks and chips, as well as dangerous joints and sealants.
Without completing the waterproofing, a ceramic coating placed on the building's terraces and balconies provides zero protection. Water leaking from the terraces to be built in this manner will cause lower floor comfort issues and shorten the life of the structure. As a result, the selection and application of the appropriate waterproofing material are critical in terrace and balcony isolation.
UrbanRoof
Here at UrbanRoof, our team of professional experts provides extensive structural auditing facilities to every client. Once the audit is finished, we provide you with a proper building inspection report where you can pinpoint the immediate task that needs to get done. This is how you can save a lot of money before the miniature issues turn into major problems in the future.